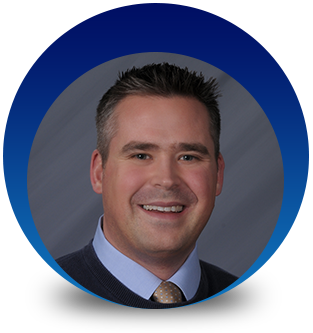 Dr. Lucas Boe is a Midwest native. He grew up in Rugby, a rural town in north central North Dakota. After graduating from high school in Rugby, he attended the University of North Dakota where he earned his degree in chemistry and biology and graduated summa cum laude. While attending UND he met his lovely wife, Kelly, and they were married in 2003.
Dr. Boe attended dental school at Oregon Health & Science University in Portland, Oregon, and he graduated with honors in 2007. He was also inducted as a member of the Omicron Kappa Upsilon Dental Honor Society. Following his graduation from OHSU, he and his wife moved to Ft. Lauderdale, Florida, where Dr. Boe completed his orthodontic training at Nova Southeastern University, becoming a certified orthodontist in 2009.
Dr. Boe, Kelly, and their English bulldog, Hudson, moved to Cedar Falls in July of 2009. They have enjoyed getting involved with the community. Dr. Boe is currently a member of the Cedar Falls Chamber of Commerce, the Iowa Dental Association, the Midwestern Society of Orthodontists, the American Association of Orthodontists, and the American Dental Association.